2012 - The Ragnar Skanåker Grand Prix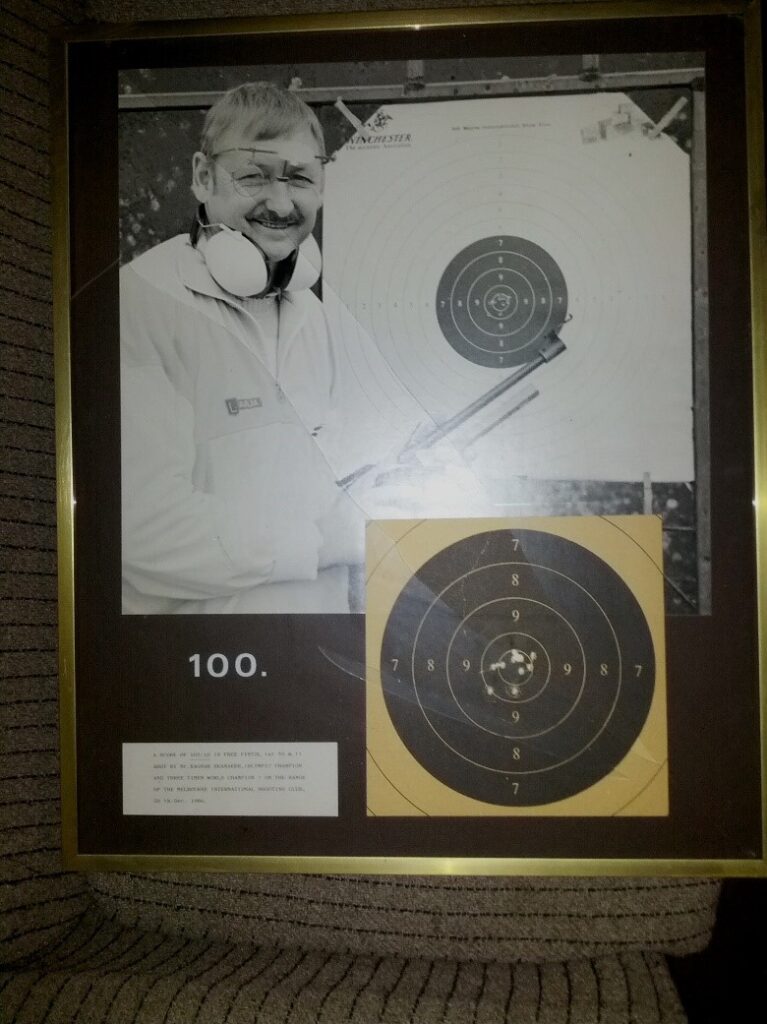 I joined MISC together with my daughter Kristina in 2012 as we wanted to get back into the sport I grew up with in Sweden. Back in my youth I was mainly a rifle shooter (10m Air, 50m, national 200/300m Mauser with 6.5/Swede) but keenly interested in all shooting disciplines. As you can expect Ragnar Skanåker was a bit of an idol with his Olympic Gold as well as him being a public figure. Back then I didn't know about Ragnar's connection to what was to become my new home town, Melbourne, and my new shooting club.
One evening in 2012 I was looking around in the MISC club house and, for reasons unknown, I looked behind a sofa and found this very interesting photograph of Ragnar with a 50m pistol target featuring a perfect 100 score (the match score was either 576 or 571 according to Ragnar)! Obviously, I got curious about the history of the photo and learnt that it was taken by Tibor when Ragnar was visiting MISC in December 1986.
The glass on the photo frame was broken so I asked if I could take the photo and frame with me and arrange for a new glass to be put in. This was done and these days the photograph hangs prominently close to the canteen in our club house.
After discovering the photo I also emailed Ragnar to let him know about it and also, hopefully, rekindle the relationship between him and MISC. Ragnar told me he had many fond memories of visits to Melbourne and also highlighted his many relationships with the shooting community in Australia, especially his friendship with Tibor and Neville. At that time an idea started to form. What if we could create a competition to commemorate Ragnar's relationship with MISC & the Australian shooting community? Thus, the concept of the Ragnar Skanåker Grand Prix was formed and we started to discuss it in the club. With Reg McCready's feedback we decided to include 50m rifle prone as part of the competition to show that cross discipline competitions is a great way to promote our sport.
Discussing this further with Ragnar provided a great surprise! Not only was he happy for us to use his name for the competition, he also decided to participate himself, sponsor the event with prizes and he also offered to run a coaching clinic the day after the competition. This clinic featured our national team and MISC members.
The inaugural Ragnar Skanåker Grand Prix was a great success. It featured qualifications as well as finals with great lunch in between. Great fun was had by everybody!
Some comments in the Swedish shooting press after the event.
'Sweden's Olympic Gold Medalist and best shooter was invited to compete in a competition named in his honour, The Ragnar Skanåker Grand Prix. Naturally he decided to compete, flew to Melbourne for the competition and also took the opportunity to do a 7,000km road trip across the continent.'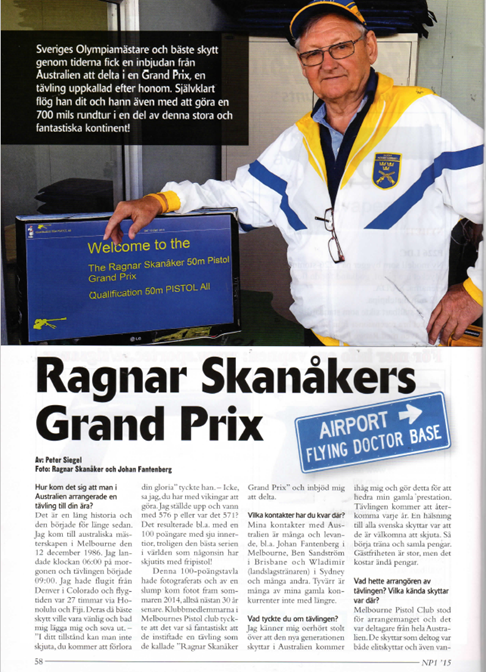 "I'm very proud that a new generation of shooters in Australia remember me and created this competition in my honour. It will be a yearly competition and Swedish shooters are more than welcome to join!"
"In Melbourne, about 30 years ago, we had a party with a farmer named Neville. After the party we named him Neville Bonfire as he lit an out-of-the-world bonfire at his farm! He came to visit me at the Grand Prix in Melbourne where we also reminisced in memories of a crayfish party at my place in Munka-Ljungby where the Australian national team was staying as we prepared for competitions in Europe."
Copy of the flyer for the Ragnar Skanåker Grand Prix below: